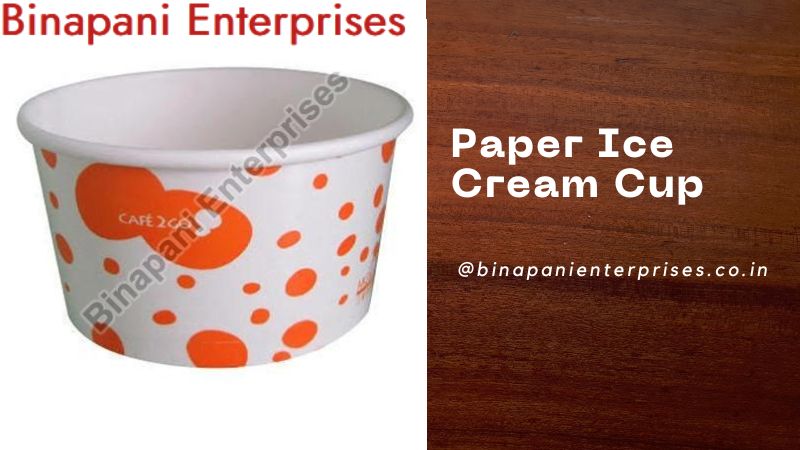 A cup made of disposable paper and lined with a bit of wax is known as a paper cup. There is wax or sometimes a bit of plastic, preventing any liquid from seeping through the paper. Paper cups made of recyclable plastic are particularly in high demand.
There are a variety of different types of paper cups. They may be plain or even printed. Because of their biodegradable quality, they have become highly lucrative to Paper Ice Cream Cup Dealers.
Let us see some of the benefits of using paper cups.
1. Paper Cups Are Eco-friendly - Global warming conditions have reached an alarming level. In today's day and age, you should always see if a product is eco-friendly. Paper cups are made from biodegradable material. They are never made of non-biodegradable substances such as plastic or Styrofoam.
Paper cups, such as Paper Ice Cream Cup, decompose quickly. These cups get made in a way that they are recycled when they are given at the right place. Therefore, paper cups are very safe and non-toxic. In addition, you can be crumple them and dispose them of smoothly.
2. Paper Cups Are Convenient To Use - These cups are very easily portable. They are lightweight, and you can carry them at your convenience. Paper cups save you the energy of washing and cleaning.
Other cups made of glass or plastic require you to wash them frequently to keep them clean. Paper cups are the best alternative if you are looking to plan an outing or carry luggage. They are so light that you can easily carry them around. The packaging of disposable paper cups is also very easily transportable.
3. Paper Cups Are Recyclable & Biodegradable - Paper cups gets made from recyclable paper. The pulp of this paper comprises water and paper. This pulp gets reused to make new cups. Paper cups are disposable, which makes them a safe and clean product. Paper comes from trees that are devoid of any toxic substance.
4. Paper Cups Are Available in a Variety of Types - Paper cups are in various designs and shapes. They come in all different sizes. You can get paper cups in their simplest, plain, and printed forms. Common designs of a Paper Ice Cream Cup can be cartoons, various logos or designs of different ice cream flavours.
Another reason for using printed cups is to suit the ever-growing demographics. You can choose how you want your favourite dessert item served. It could be conventional cups or printed cups. The visual effects of printed cups attract everyone.
This is why many Paper Ice Cream Cup Dealers are using images to increase customer engagement. Printed cups also give a unique brand identity that forever resonates with the customer.
5. Paper Cups Offer Safety - Paper cups are much safer compared to plastic or Styrofoam cups. Paper cups are used for both hot and cold beverages without any problems. Paper cups are biodegradable and do not contain any toxins. The consumables do not react with the cup material. Therefore, any beverage or food item is safe. They are also very light in weight and you can easily carry them.
These are the reasons paper cups are an effective way to go green. In current times paper cups engage dealers to provide eco-friendly and clean products.